There are 2 common ways to get a visa to Vietnam: getting Vietnam visa at the Vietnam Embassy (traditional application) or getting Vietnam visa on arrival (online application).
Normally, people applies for Vietnam visa at the Vietnam Embassy for their "peace of mind", as their words, even it takes more time and money. Meanwhile, Vietnam visa on arrival is 100% legitimate as it is issued by the Vietnam Immigration Department, a government organization belonging to the Vietnamese Ministry of  Public Security. In some cases, visa on arrival is even more secured and convenient as you don't have to send your passport off and the application will be processed online absolutely using SSL encryption technology. It becomes more and more popular and is used by million of travelers going to Vietnam today.
Below is the instruction on how to apply for Vietnam visa from Algeria:
1. Apply in person at Vietnam Embassy or Consulates
Embassy of Vietnam in Alger, Algeria
Address: 30, rue Chénoua, Hydra, Alger, Algérie
Phone: 00213 21 69 27
Fax: 00213 21 69 377
Email: sqvnalgerie@yahoo.com.vn
** Remember to prepare full the required documents for visa application at the Vietnam Embassy in Algeria before coming there to save you time.
For a tourist visa, you will need to submit:
Visa application form (will get from the Vietnam Embassy directly or download from their website);
Two photos (usually 4 cm x 6 cm or 3 cm x 4 cm but not strictly);
Your original passport (will be hold during your visa being processed);
Visa fee (which varies from one Vietnam Embassy or Consulates to another)
A business visa usually also requires a sponsored letter and documents from the agency or company in Vietnam. The process usually takes 5 working days (in person) or 2-3 weeks (by post) depending on the service you use.
For those who need express Vietnam tourist visa service in 1 or 2 working days, they usual choose Vietnam visa on arrival instead.
2. Apply a visa on arrival to Vietnam
Visa on arrival is the process that you will apply for a visa online then pickup visa upon arrival airports in Vietnam – Hanoi (Noi Bai International Airport), Ho Chi Minh City (Tan Son Nhat International Airport), Da Nang (Da Nang International Airport) or Nha Trang (Cam Ranh International Airport). It is a legitimate alternative to obtaining a full visa stamp from the Vietnam Embassy in Algeria with simple process and much cheaper cost. It is beneficial for those who do not have much free time to apply for visa in person at the Vietnam Embassy or those who is residing in the cities with no Vietnam Embassy or Consulates nearby.
The visa on arrival process will take 48 hours maximum from the time of payment completion then an authorized visa approval letter will send to your registered email.  In emergency cases, you can apply for rush Vietnam visa service and the visa approval letter will be delivered in just a few hours. What you need to do is to print out the letter, bring along with your passport, photos, stamping fee and obtain a full visa stamp at Immigration Counter at Vietnam airports. Once issued, it is exactly same as a visa issued by the Vietnam Embassy or Consulates with similar limitations and conditions for using. See more how Vietnam visa on arrival works
What the approval letter for Algerian looks like?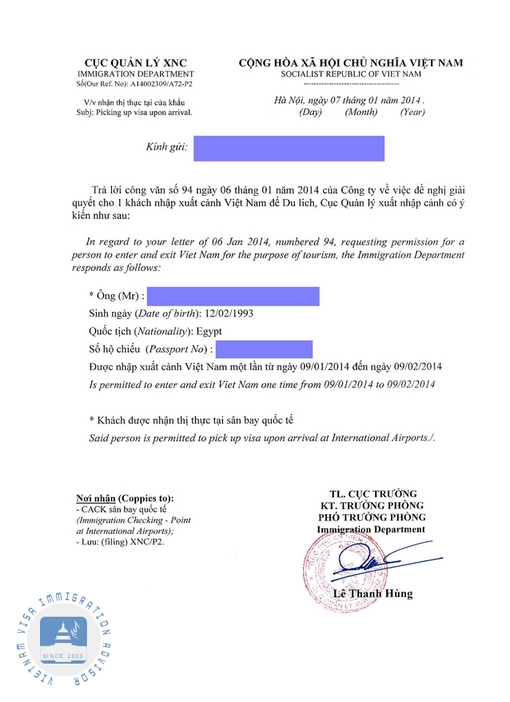 Authorized visa approval letter sample provided by visumvietnamonline.com
Please make an application and take the experience on our services, we believe you will feel happy and satisfied. If you need further information about the visa service, you can check more at FAQs section or contact us for more support.