Vietnam Embassy in Singapore functions as a bridge between the Vietnamese Government and its counterpart in Singapore. It is also the place where the travelers can visit to apply for a visa to Vietnam before their departure.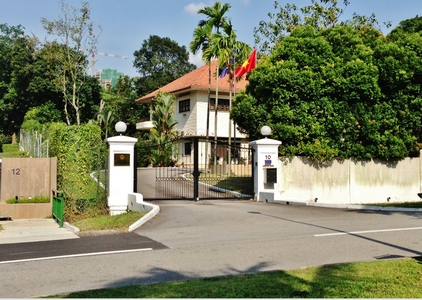 Below is the Embassy of Vietnam in Singapore contact details including its address, telephone number and email… Please keep in mind that you could deal with Vietnam Embassy to get a visa directly in 5 working days or let the authorized visa agency like www.visumvietnamonline.com do it for you within 2 working days through the legitimate Vietnam visa on arrival service at much cheaper cost. Once you received the authorized visa approval letter from the Vietnam Immigration Department, we guarantee that you could fly into Vietnam and pick up your visa at arrival airports in Hanoi, Ho Chi Minh City, Da Nang or Nha Trang without any hassle.
Embassy of Vietnam in Singapore, Singapore
Address: 10 Leedon Park St., SINGAPORE 267887
Phone: (65) 64625994
Fax: (65) 6462 5936
Email: vnemb@singnet.com.sg
Note:
Office hours: Monday – Friday
Morning: 8.30 AM – 12.00 PM
Afternoon: 2.30 PM – 5.30 PM
Visa hours: Monday – Friday 9.00 AM – 12.00 PM
** Remember to prepare full required documents for visa application at the Vietnam Embassy before coming there to save you time.
Please see the table below for the difference between Vietnam visa on arrival and traditional visa:
| Description | Visa on arrival | Traditional visa |
| --- | --- | --- |
| Issued by | Vietnam Immigration Department | Vietnam Embassy or Consulates |
| Processing time | 2 working days or less | 5 working days |
| Additional fee | None | Postal cost, driving fee and even air fares |
| Passport required | Not required | Required |
| Visa application | Online totally | In person or by post |
| Travel by | By airplanes only | By any means of transport |
| Get visa stamped | At arrival airport in Vietnam | At the Vietnam Embassy |